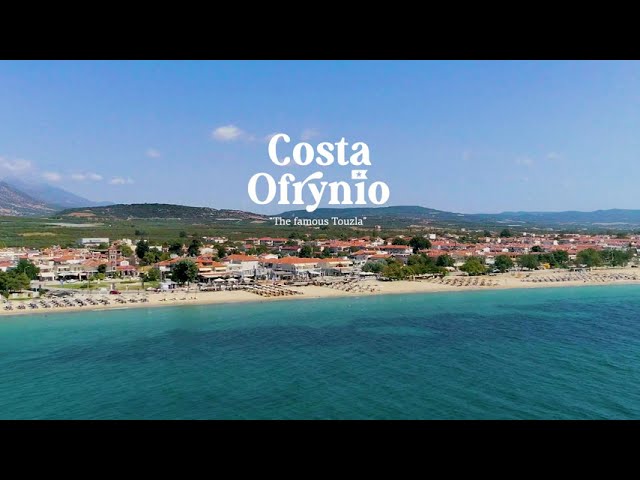 Costa Ofrynio - Mountain and sea in perfect harmony
OFRYNIO beach – Costa Ofrynio, is located at the western end of the prefecture of Kavala and in an extremely central location between two important Greek airports, "Macedonia" Thessaloniki and "Alexander the Great" Kavala.
It is only 47 minutes from Thessaloniki with excellent road connection, while there is a "breath" from the border, as well as from three major cities in Macedonia.
100 km and 47 minutes from Thessaloniki
54 km from Kavala
56 km from Drama
60 km from Serres
100 km from the Greek-Bulgarian border
Ofrynio beach – Costa Ofrynio in summer is an ideal holiday spot for those who want to live unique experiences in the 15 km of beautiful coastline and enjoy the Blue Flag awarded beaches.
It is a place that remains beautiful, special and full of surprises 365 days a year. Cafes, restaurants and nightclubs are open all year round, while thousands of visitors enjoy along with the holidays, the famous local flavors, the many amazing activities, while discovering the secrets of the area in the dozens of tourist getaways.
As an ancient crossroads of cultures and events, every monument in the area has a lot to tell.
Archaeological sites

Casta Tomb of the Municipality of Amfipolis

Museums

Historical monuments

Monasteries and old churches

Visitable wineries

Traditional houses

Caves

Gorges
The local cuisine is a special experience for each guest. The secret of the flavors is based exclusively on unique recipes but also on fresh and quality products produced in the area:
Fresh fishes

Wines

Almonds

Olives

Virgin olive oil

Dairy and cheese products

Tsipouro

Honey

Spoon sweets

Grapes
There are so many activities to enjoy in the area, and they can offer a different program for each day.
Water sports – Diving

Sailing

Fishing

Cycling

Family entertainment venues

Observation of rare birds and animals

ENDURO routes

Routes 4 × 4

Hiking – Climbing

Picnic

Horseback riding

Thermal springs

Pilotherapy

Paintball

Football 5 × 5